We create the space to change yourself and our bank
Banks have to rethink themselves, in order to be successful in the future. We also claim this for our bank. This approach requires new technologies and agile working methods. But first of all, it requires people who are willing to take on new challenges and drive innovation. To keep it short: It needs challengers!
At Hauck & Aufhäuser everyone has the opportunity to make a difference with own ideas, personal commitment and ambition. Our flat hierarchies and our medium size provide the necessary framework for personal and professional development beyond the own area of expertise. For our bank can only change and continue to grow if our employees do the same. Are you ready for change, too?
Would you like to become part of Hauck Aufhäuser Lampe?
We look forward to receiving your application!
We offer the necessary framework for change
Challenge & Change
Hauck Aufhäuser Lampe
The roots of Hauck & Aufhäuser go back to 1796. The merger between Hauck and Aufhäuser dates back more than two decades. Since 2016 we have been looking into the future together with our Chinese partner and investor Fosun. And a lot has changed since then.
We have grown in all business areas – organically and also inorganically. The acquisition of the Sal. Oppenheim entities Luxembourg in 2017 was followed by the purchase of Crossroads Capital Management in Ireland. Furthermore, 2018 we expanded our most traditional division Private Banking and added the digital wealth channel Zeedin.
This year then brought the biggest announcement in our recent history: the planned acquisition of Bankhaus Lampe. Together we will become one of the leading private banks in Germany with the core business areas of Private Banking, Asset Management, Asset Servicing and Investment Banking.
CHALLENGE & CHANGE YOURSELF
We invest in the development of our employees
Our change process can only remain successful if the right people come together. People who want to drive change themselves. We in turn create the necessary environment for this. Because we see the development of our employees as the most important investment. Our development formats are diverse and agile. We relate leadership to people, topics and projects and provide specific development offerings.
How we promote professional and personal growth:
In 2019, our bank trained almost four dozen Design Thinking Coaches, who are responsible for a variety of cross-divisional projects.
But we also provide professional training and targeted support for talents – from training on occupational health to external specialist seminars and the H&A Transformer Programme, which focuses on promoting innovation and helping to shape strategy.
And for all other topics, we also offer a free

consulting and coaching service

with meinEAP.
Challenge accepted?
Only five steps to your personal change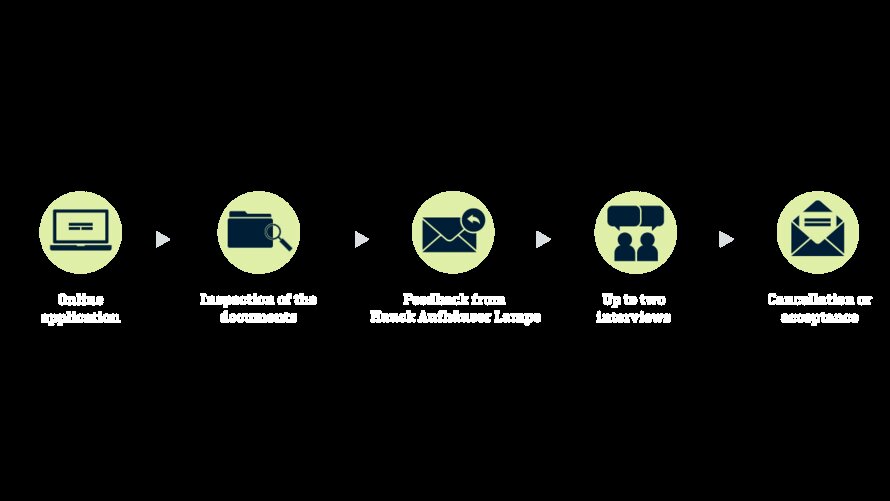 Step 1: Online application
Online application of the candidate.
Step 2: Inspections of the documents
Forwarding the documents to the manager of the specialist department for analysis of the application documents and sending a confirmation of receipt to the candidate.
Step 3: Feedback from Hauck Aufhäuser Lampe
Timely feedback to the applicant, after a maximum of 2 weeks.
The first interview is coordinated by the specialist department.
Cancellations are sent cent
Step 4: Up to two interviews
The first interview takes place between the manager and the candidate. This interview focuses on the candidate's professional skills.
If the candidate was convincing in the first interview, the candidate is invited for a second interview. This interview takes place with the manager, the responsible HR Business Partner and the candidate. This interview focuses on personal competencies and all personnel issues.
Step 5: Cancellation or acceptance
Candidate receives a prompt acceptance or rejection, if possible within one week after the second interview.
This feature is only available for HAL+ Users.
Get exclusive additional functions and premium content with your free account.